The First Aid Quiz
Welcome to The First Aid Quiz
The First Aid Quiz web site was created to provide a fun way to brush up on your first aid knowledge. I believe that learning should be fun and interactive, so hopefully this will help. If you don't know any first aid then hopefully this site will give you the motivation to learn first aid properly. It really is a skill that could save a life. Please view the First Aid and Training pages for details of how to learn first aid.
You can follow updates on this site through First Aid Quiz on Twitter or First Aid Quiz Facebook Page.
Revised 10th Edition First Aid Manual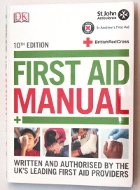 Book Review: The First Aid Manual
About me, my First Aid experience and web history
I've been a First Aider for over 20 years, including many years as a volunteer first aider.
I am frequently told by fellow first aiders that over time they forget some of the things that they are taught. Hopefully this site will provide a way of reminding yourself of the first aid knowledge to better prepare you for the future.
I have been using and creating web sites since the early days of the World Wide Web. You can see more about me on my personal website www.watkissonline.co.uk or on my Days Out Diary website.
Disclaimer and First Aid Information
Whilst effort is made to ensure that the information on this site is accurate, I cannot accept any responsibility for actions taken as a result of this information. The site is provided for use "as is". Please see the full legal information.
Contact me
If you would like to contact me please use the email form on my personal website.